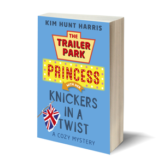 A British silver fox has moved into the Belle Court Retirement Center, and octogenarian amateur sleuth Viv Kennedy is crushing on him hard. Unfortunately, he appears singularly unimpressed with Viv's overnight adoption of every British phrase she knows (and a few she's, admittedly, unclear on.)
Maybe if she and Salem Grimes can solve the murder of the hotshot TV reporter Peter Browning, she can catch his eye.
The fact that Peter's death has not been ruled a murder is a minor consideration.
Salem is certainly willing to help Viv land Nigel the Brit. After all, it will make her best friend happy. It will also make her husband happy — Tony is under the impression that if Viv finds a man and settles down, Salem will stop chasing bad guys down dark alleys with her. But Salem…
Read More