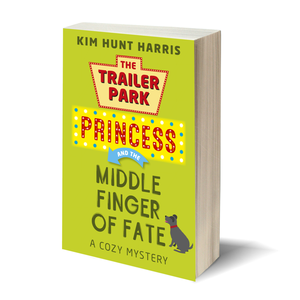 The laugh out loud caper that started it all. – Ebook now Free!

All Salem Grimes expects as she walks into the church is her regular Tuesday morning AA meeting, but when she encounters a dead body instead, she does what any self-respecting clueless amateur would do — she freaks completely out and shouts words good Christians aren't even supposed to know.
But when Salem learns that her ex-husband Tony is accused of the murder, she wonders if God might be steering her toward a chance of helping him and thereby redeeming herself — or at least a chance to make up for the pain she caused him when they were married and she was drinking.
With the help of her new octogenarian BFF Viv and the emotional support of her dog Stump, can Salem keep her act together long enough to sow some good seeds for a change?
Get The Middle Finger Of Fate Ebook Free Online At
Now available – Audio Book Version
Syndicated columnist Glenn Dromgoole's newspaper review:
Special to the Reporter-News
When Kim Hunt Harris sent me a copy of her paperback novel back in February, I was immediately intrigued by the title: "The Trailer Park Princess and the Middle Finger of Fate."
However, at the time, I had a stack of books I was trying to get through, so I set it aside and figured I would get around to it at some point.
When I finally did, I couldn't put it down. I started reading the 385-page comic mystery novel one evening and finished the next morning. It's an entertaining read — blending humor, murder, friendship and faith into the mix.
The main character is a not-so-loveable 28-year-old loser named Salem Grimes, who is trying to get her miserable life together after a decade of heavy drinking, bad choices and who knows what else. It's pretty much a blur to Salem herself.
Now 147 days into sobriety, she is on her way to an AA meeting at a Lubbock church when she finds a dead body on the church basement steps.
When the police arrest Salem's ex-husband Tony, Salem and her 80-something-year-old sidekick Viv set out to "help" solve the murder and exonerate Tony, putting themselves in grave danger.
Meanwhile, Salem in her sobriety has found God and talks frankly to Him every day but has begun to wonder if He will ever talk back — and, if He does, will she get the message? Her genuinely kind and patient AA sponsor, Les, is reassuring, but Salem has her doubts.
"The Trailer Park Princess and the Middle Finger of Fate" is the first in the Trailer Park Princess series and is available as an e-book and paperback. Two short stories in the series are only on Kindle, while a second full novel is due out this month, "The Trailer Park Princess with Unsightly Bulges." Should be fun.
Get The Middle Finger Of Fate Ebook Free Online At

"Thank you for visiting my website!"